Quand Julian Cannonball Adderley joue les grands airs de Fiddler on the roof (Un violon sur le toit), c'est tout simplement magique. L'album issu de cet enregistrement date de 1964, il est présenté sous une sympathique couverture dessinée par un auteur inconnu. Nombre de critiques considèrent ce disque comme le meilleur du saxophoniste qui rivalise ici de virtuosité avec son partenaire et ami Charles Loyd au saxo tenor et à la flûte.
Ils sont accompagnés de quelques talentueux jazzmen, et non des moindres : Nat Adderley, Joe Zawinul, Sam Jones et Louis Hayes.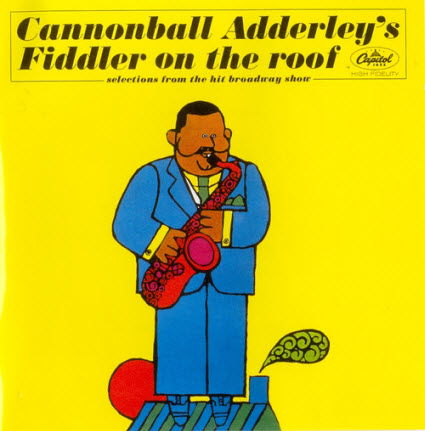 Les heureux possesseurs de ce collector se délectent des titres suivants, agrémentés de quelques explications in english malheureusement
Fiddler on the Roof in the show itself is also called Tradition. The Bolero-tempered Chavalah is strictly a dance sequence in the show, and does not appear in the original cast recording. Cannon, however, found it perfect in the context of this recording. Sewing Machine was deleted prior to the Broadway opening, but Cannon liked it so much he felt that it too should be included on this date.